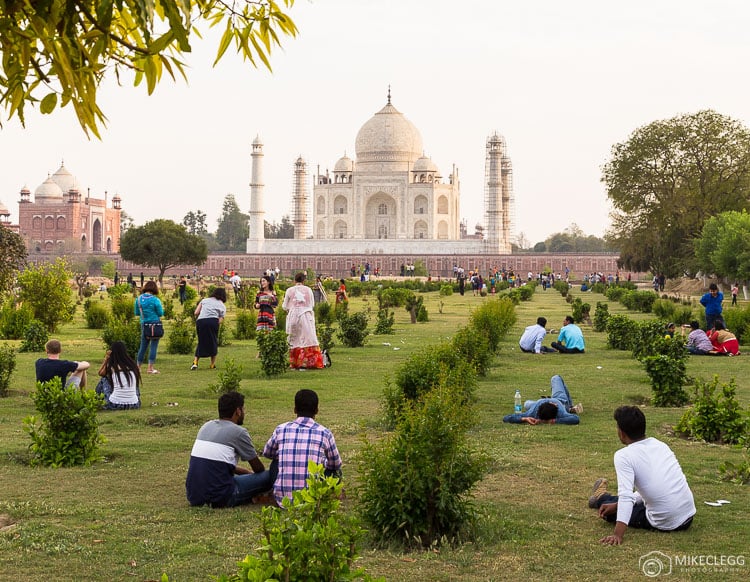 Golden Triangle comprises three popular cities in Northern India; New Delhi, Agra and Jaipur, which are approx. 125 miles from one another. This triangle is amongst the most popular tourist regions of the country and offers a mix of cultural and historical landmarks. From the marvellous Mughal architecture, the Taj Mahal in Agra, British colonial structures, Parliament House in Delhi, to the grand Rajputana palaces in Jaipur, everything on this route is irresistible.
If you see on the map, the Golden Triangle forms an almost equilateral triangle, having New Delhi on the top, Agra on the right bottom, and Jaipur on the left bottom. The cities are well-connected with each other through various modes of transportation like air, road, and train, so you may choose whichever way suits you the most. With superb accommodation, delicious food scene, an abundance of touristy sites, and friendly natives, touring India's Golden Triangle will certainly leave you with cherishable memories.
Start your trip with Delhi
The Golden Triangle tour in India usually starts in Delhi, the capital city of India. It is full of historical sites to modern architectural marvels that are hard to resist and offers a look into the city's rich heritage and modern development. Home to the Parliament House, Sir Edwin Lutyens designed its new centre in the early 20th century. Whereas, the ancient monuments like Qutub Minar, Humayun's Tomb, Jama Masjid, Old Fort, Red Fort, Jantar Mantar, stepwells, gardens, and various others are several hundred years old and are iconic examples of Mughal architecture.
On the other hand, Raj Ghat is a fabulous destination dedicated to the Father of the nation, Mahatma Gandhi. India Gate is a war memorial dedicated to over 70,000 British India soldiers who fought in the First World War. Chandni Chowk Market offers a brilliant mix of cultural vibrancy and is a great place to buy some local souvenirs and try local delicacies. Delhi is indeed one big city, which has so much to do and see that it will spoil you with choices.
Second stop is Agra
Agra is known for the Taj Mahal, one of the seven wonders in the world. However, it has many more historical monuments that are no less than the exemplary Taj Mahal and deserve a visit to learn about Mughals history and grandeur. Visit Agra Fort, which is quite like Red Fort in Delhi, but maybe more magnificent. Stop at the Baby Taj, or Itimad Ud Daulah Tomb, and then head to the Taj Mahal viewpoint to witness the amazing views of the Taj from the other side of the river. Finally, visit the Taj Mahal in the late hours of the evening to avoid the crowd and fog and watch sunset views of this amazing place.
Last destination of the Golden Triangle is Jaipur
The next destination is Jaipur, stop at Fatehpur Sikri on the way and be amused by the beautiful Mughal era structures. Do include a safari trip to Ranthambore National Park, if you are a nature and wildlife lover. On an open-top jeep, you will get the chance to spot big cats, the Bengal tigers, or leopards, crocodiles, sloth bears, and exotic birds.
After reaching Jaipur, you will see an altogether different cultural scene and ambience. Jaipur is a colourful city with friendly locals, lots of royal palaces, forts, local markets, and many Rajasthani dishes to try and relish. Start your day with Amber Fort and then visit Jaigarh Fort, Lake Palace, Hawa Mahal, City Palace and Jantar Mantar. Later in the evening, head to Nahargarh Fort to take in the incredible view of the city. Don't miss exploring Jaipur's local markets, where you will find a plethora of local clothes, jewellery, handicrafts, accessories, and spicy and sweet dishes.
Back to Delhi
If you have some more time and are touring in a hired cab, you could stop in Mathura, the birthplace of Krishna, and Vrindavan, home to many beautiful temples. Or, relax for a few days at 475-year-old Samode Palace or Hotel Neemrana Palace; both are heritage properties serving as luxurious hotels. You can get more info about these places online through Thrillophilia Facebook reviews.
Best time to visit
The best time to visit India's Golden Triangle is between October & November and February & April. During these periods, the temperatures remain comfortable throughout the day and dip a bit at night. Although December and January offer beautiful winters, morning fog can delay your travel plans.
Travel Tips
Consult your doctor at least eight weeks before your departure date to consider immunizations and other travel-related precautions.
Carry sunscreen, sunglasses, or scarf/hat and wear comfortable cotton clothes to protect yourself from the harsh heat.
Carry mosquito repellent and, if possible, an N95 mask to protect yourself from pollution.
Book your cab or tickets well in advance to avoid last-minute hassles.
When visiting religious places, always be respectful and follow the guidelines mentioned on the respective premises.
Although we have discussed the Golden Triangle, northern India has a wealth of beautiful and interesting places in Rajasthan, Punjab, Himachal Pradesh, Uttar Pradesh and divine Jammu & Kashmir. You may plan a visit to any of these locations after reading Thrillophilia Twitter reviews online and will learn about rustic India or relax amidst the beautiful surroundings of lush or snowy landscapes. No matter which destination you choose, you will be awe-struck with the natural beauty and architectural marvels.